VP-28 Reunion - Corpus Christi, TX - October 5-8, 2011
The 2011 all hands reunion is scheduled in Corpus Christi, TX on October 5-8, 2011 and offers a foc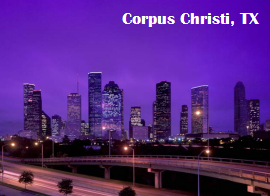 us on a long tradition of Naval Aviation Flight Training, great tours and the opportunity to relax with old friends. Our highlighted activities this year are:
- A charter bus transport to and from the famous King Ranch
- Lunch in the bunkhouse at the ranch
- A banquet onboard the USS Lexington.
For more information about the Corpus Christi area click here.
Reunion Coordinator: Harold Spivey, - Phone (210-661-9273)
Hotel:
The Courtyard Marriott in Corpus Christi is our reunion hotel. A block of 40 rooms is reserved for VP-28 Shipmates and their guests. Hotel accommodations are separate from the Reunion registration and must be arranged by those attending.
Rates are as follows:
Hotel Information

Occupancy

Room Rate

Marriott Courtyard Hotel
5133 Flynn Parkway, Corpus Christi, TX 78411

Single and double group rate

$80 Plus Taxes

Reservations (361-808-8400)
Event Name = Patrol Squadron 28 Reunion
Reservation Cutoff Date - September 23, 2011
Breakfast included
Website - http://www.marriott.com/hotels/travel/crpcy-courtyard-corpus-christi/
Free Parking

Airport Transportation:
Airlines serving Corpus Christi are Southwest, Continental and American Eagle. Ground transportation from the airport to the Courtyard Marriott is about $20.
Tours:
Wednesday & Thursday -- Oct. 5-6
Available local attractions you can visit include:
USS Lexington - It's one of the most famous aircraft carriers in the history of Naval Aviation and is known as the "Blue Ghost". Walk her decks and passageways and discover the role her sailors played in the nation's defense for almost 50 years. Wher WWII record is second to none. She remains a memorial to those who served and died defending our freedom. http://www.usslexington.com/
Texas State Aquarium - A fish story to remember. Come face to face with everything from a tiny seahorse to big sharks. The aquarium features a 132,000 gallon exhibit that gives you the illusion of being submerged more than 50 feet under water. http://www.texasstateaquarium.org/
Art Museum of South Texas - Since 1972, the art museum has been a landmark on the Corpus Christi Bay. Lots of gallery space and a new cafe' that overlooks the bay and ship channel. http://www.stia.org/
Waterfront/Marinas - Corpus abounds with waterfront restaurants and boats of all types and sizes.
Friday, October 7 - King Ranch Tour - The King Ranch is a National Historic Landmark and is recognized a the birthplace of the American ranching industry. We will tour the ranch, museum and saddle shop. The tour includes a cowboy bunkhouse BBQ at a real working cowboy bunkhouse. Cost is $40 per person which includes round trip bus transportation and the tour. http://www.king-ranch.com/
Note: It is very important to register as early as possible if you are planning to attend the King Ranch tour. Participation in the BBQ is not guaranteed for those who check in or decide to attend at the beginning of the reunion.
Saturday, October 8 - Banquet - Saturday night at the USS Lexington. Cost is $45 per person, which includes bus transportation to and from the event, the meal and admission to the ship. The group will have exclusive access in the evening during and after our banquet.
Sunday, October 9 - Departure day for most. Reunion wrap-up and visits with shipmates enough to last until next time.
Golf: A golf tournament is planned. Indicate your intention to golf on the registration form and pay on the day of event. Coordination will be finalized during the first day of the reunion.