2010 All Hands Reunion Detailed Announcement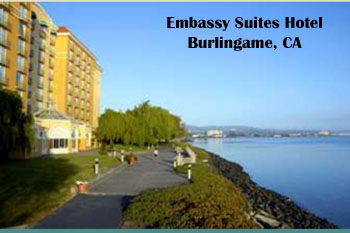 San Francisco, October 7-10, 2010
Welcome to the Golden State. The 2010 All Hands Reunion is to be held in San Francisco, CA on October 7-10, 2010 and offers Fleet Week tour accommodations, the full range of San Francisco adventures and opportunities to relax with old friends. The focus tour this year is charter bus transport to and from Fisherman's Wharf, the heart of Fleet Week activities. Reserved seating is available for those who would prefer to settle in.
Reunion Coordinator - Jim and Carmen Peoples - 2peoples@cableone.net
HOTEL The Embassy Suites San Francisco Airport in Burlingame has been chosen as the reunion hotel. A block of 50 rooms has been reserved for VP-28 Shipmates and their guests. For those not familiar with Embassy Suites, all rooms are two room suites. Complimentary breakfast, and an afternoon Managers Reception (happy hour) are provided to all guests. Hotel accommodations will be separate from the Reunion Registration and must be arranged by you.
Rates are as follows:
| | |
| --- | --- |
| Occupancy | Rate |
| "Patrol Squadron 28" room rate | $109 plus taxes |
Address: 150 Anza Blvd., Burlingame, CA 94010
Reservation cutoff date: September 9, 2010
Airport Transportation – Complimentary shuttle to and from SFO and BART (Bay Area Rapid Transit) station.
TOURS
Friday – October 8 – Bart to San Francisco – Tour the city on a double double-deck bus. Hop-on/hop-off privileges so you can spend time at your favorite places.
Saturday – October 9 – Charter bus to Fisherman's Wharf for Fleet Week– Fleet Week activities taking place on Saturday include a Parade of Ships, Air Show with the Blue Angels. Activities may be viewed from numerous points in the area or optional reserved seats may be purchased on the Village Green area. Charter bus tickets from the hotel to Fisherman's Wharf and return - $20/each; Reserved seats for Fleet Week activities - $30/each. Reserved seats must be purchased by Sept. 1st. Reserved seat tickets are non refundable regardless of weather.
Alternatives to fleet week activities:
1. Alcatraz Island – buy tickets at pier.
2. Ride a cable car
3. Pier 39
4. San Francisco Maritime National Historical Park
Sunday – October 10 – Free day for socializing and exploring; Banquet in evening.
Banquet - Sunday night, October 10 at the hotel. Cost = $30 per person.
Photos There will be no formal photo book published this year but a roving photographer and photo CDs are planned. Sign up for this option at the reunion, plus come prepared to take lots of personal snapshots with your own digital camera.
GOLF A golf tournament will be held on Friday, Oct 8. Indicate intention to golf on the registration form and pay on day of event. Coordination will be finalized during the first day of the reunion.
Hotel Location 150 Anza Blvd., Burlingame, CA 94010
PATRON 28 Reunion
Patron 28 Reunion Paid List
San Francisco – October 7-10, 2010
Updated Oct 3, 2010
Reg #

Last Name

First Name

VP-28 Dates

VP-28 Rank

Guest(s)

1

Meier

Myron "Mike"

57-60

LTJG

2

Wilson

Luther "Ed"

54-55

AT2

Valine

3

Miller

C.O. "Chuck"

55-58

AT2

4

Peoples

Jim

55-57

AT2

Carmen

5

Lugin

Ed

63-66

ATR3

6

Cordrey

Rob

65-68

LT

Cheryl

7

Harpster

Dick

62-64

ADR1

8

Lindberg

Peter

67-69

ATN2

Leslie

9

Self

Bob

54-57

AT3

10

Spivey

Harold

62-65

ADR3

11

Earnest

Charlie

58-61

AT2

Suzanne

12

Alves

John

62-65

AE2

13

O'Halloran

Skip

66-69

AE2

Monica
Kerry O'Halloran
Carolyn O'Halloran

14

Stone

Richard

60-62

LTJG

Lourdes

15

McMahon

Jim

66-69

LT

Marilyn

16

Lewis

John

67-69

AE2

17

Gielow

Greg

63-64

AE3

Angela

18

Parten

Bob "Fuzz"

61-64

ATN3

Bonnie

19

Deuerling

Joe

56/58

LTJG

Margit
Susanne
Vance

20

Moore

Frank G.

62-65

AMH2

Diane

21

Chalut

Michael

65-66

ATN3

Michaeleen

22

Staples

Sam

57-59

LTJG

23

Brasseaux

Wayne

65-66

AX2

Elaine

24

Holmes

Larry

59-60

AD2

25

Scott

Steve

57-59

LTJG

Geri

26

Arnett

James R

67-69

ADJ3

Jane

27

Grant

Phil

56-58

LTJG

Debbie

28

Bariola

Louis A.

54-57

AT1

Bonnie

29

Campbell

Ron

67-69

AE2

Joyce
53 attendees registered