2009 All Hands Reunion Detailed Announcement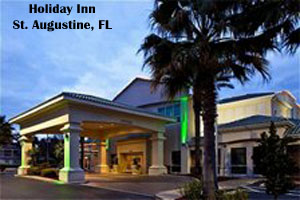 October 4 - 8, 2009
Welcome to the Sunshine State. The 2009 All Hands Reunion will be held in St Augustine, FL from Sunday, October 4th to Thursday the 8th, and offers great tours, small town Florida hospitality and opportunities to relax with old friends. The focus tour this year is a trip to NAS Jacksonville where the future home of the Boeing P-8 Poseidon is being created in the form of a large new ramp and hangar complex.
Reunion Coordinator - Mike Chalut – Ph home-(904) 522-1276
HOTEL The Holiday Inn Hotel and Suites Historic has been chosen as the reunion location with a block of 50 rooms reserved for VP-28 Shipmates and their guests. Hotel accommodations will be separate from the Reunion Registration and must be arranged by you. We have purposely set the dates for the reunion to fall in the less expensive Sunday to Thursday timeframe. Please reserve your room soon -you can cancel without penalty later if you have to change your plans.
Rates are as follows:
| | |
| --- | --- |
| Occupancy | Rate |
| King or double – group rate | $82 (Sun-Thu) $97 (Fri-Sat) |

Address: 1302 North Ponce de Leon Blvd, St. Augustine, FL 32084
Reservations: 1-800-569-8008 (code: VP2)
Event Name: VP 28 Patrol Squadron Reunion
Reservation cutoff date: September 13, 2009
Website: www.staugustinehi.com (view their virtual tour)
Parking: Free and plentiful
Airport Transportation – "Airport Express" is available for those flying into Jacksonville International Airport. It is a one hour trip to the hotel and costs $45 for the 1st two people and $5 for each additional up to six. Reserve the van pick-up prior to arrival at (904) 824-9400. Lower airline fares may be available by flying into Orlando International and renting a car for the 2hr ride to St. Augustine. The Orlando/Sanford Airport is 1.5hr from St Aug.
TOURS – St. Augustine is a tourist paradise, with historic "oldest city" attractions, relaxing beach environment and relative close proximity to Disney World, Daytona Beach and Kennedy Space Center. Check out the enclosed web links to see the sights that interest you most. There is lots of nice shopping on nearby St. George Street, the Prime Outlet Mall and the many quaint antique shops just one block from the hotel. Order maps and visitor information at: www.staugustine.com
Train Tour of St Augustine –Monday-$14. This will give everyone an overview of the Ancient City with a one hour guided tour. Your ticket allows you to ride the Red Train without charge for three days. Trains run every 20min. from 8:30 to 5:00 daily with 22 stops throughout St. Augustine. You can get on as often as you like while sightseeing and enjoying the many excellent restaurants in town. There is also complimentary pick-up & return to our hotel. View their web site at: www.redtrains.com to get excited about all the attractions you can visit and the ease of getting around town. Be sure to check this site for links to most St. Augustine places of interest.
VP Tour –NAS Jacksonville –Tuesday morning. VP has come a long way since we flew P-2s and P-3As back in the 50's and 60's. Can you believe that the P-3 has been in service for FORTY SIX years!! But its days are numbered as it's about to be relieved by a derivative of the Boeing 737-400. This tour will give you an "insider's" view of the future VP community. Lunch will be at the "O" Club on the scenic St. John's River.
Sunset Cruise on Matanzas Bay – 18:45 Tuesday night, Cost- $10.
Relax and enjoy a narrated cruise aboard Victory III for an incomparable way to view St. Augustine's historical landmarks and natural sights of interest.
The sunsets this time of year are fabulous. www.scenic-cruise.com
Banquet The Hawaiian Luau banquet and reunion gathering will be held on Wednesday night, October 7th in the hotel's Flagler Room. Cost is $30 per person and includes a two entrée buffet (plus roasted pig), salad, carbohydrate, vegetable, beverage and dessert. This large, nicely appointed room will also be our hospitality suite and is on the same floor (the 2nd) as our personal rooms. It will be the gathering place for reminiscing about the early days, sharing cruise books, aviation memorabilia and visiting with old friends getting misty eyed over a cold one.
Photos John Lewis has volunteered as a roving photographer and will put together an inexpensive photo CD like he did in San Antonio. Sign up for this option at the reunion, plus come prepared to shoot and share your own digital snapshots.
GOLF A golf tournament will be held Wednesday. Indicate your intention to golf on the registration form and pay on day of event. Coordination will be finalized during the first two days of the reunion. The World Golf Hall of Fame (15 min away) is a must see for the avid golfer. www.wgv.com
PATRON 28 Reunion Paid List
St Augustine – October 4-7, 2009
Updated Sep 20, 2009
Reg #

Last Name

First Name

VP-28 Dates

VP-28 Rank

Guest(s)

1

Lewis

John

67-69

AE2

2

Lugin

Ed

63-66

ATR3

Joan

3

Miller

Sam

54-57

AT2

Evelyn

4

Wilson

Luther

54-55

AT2

Valine

5

Harpster

Dick

62-64

ADR1

6

Alves

John L

62-65

AE2

7

Bariola

Louis

54-57

AT1

Bonnie

8

Peoples

Jim

55-57

AT2

Carmen

9

Young

A.K.

63-66

ADR2

10

Cordrey

Rob

65-68

LT

Cheryl

11

Spivey

Harold

62-65

ADR3

Mary Ann

12

Chalut

Mike

65-68

ATN3

Michaeleen

13

Deuerling

Joe

56-59

LTJG

Margit

14

Stout

George

51-55

AT1

Julie Stout

15

Meier

Mike

57-60

LTJG

16

Graff

Clinton

53-55

AE1

Dorothy

17

Self

Bob

54-57

AT3

Dick (brother)

18

Parten

George "Fuzz"

61-64

ATN3

Bonnie

19

Bettingfield

Jim

65-68

LT

20

Miller

C.O. "Chuck"

55-58

AT2

21

O'Halloran

Skip

66-69

AE2

Monica

22

Cyrus

Sam

61-64

AT2

23

Kenny

Berney

54-56

AT2

Barbara

24

Teasley

Billy

63-66

AX2

Ann Brooker

25

Boullion

Louie "Lou"

59-60

AT3

Danetta Whaley
Lois Stone

26

Ste Croix

Lucien

62-66

AD2

Louise

27

Gray

Bill

63-66

AE2

Connie

28

Gilbertson

Glen

54-57

LTJG

Irvyn

29

Bragg

Julian

59-62

AMH2

Walter Smith

30

Gielow

Greg

63-64

AE3

Angela

31

Moore

Frank

62-65

AMH2

Diane

32

Bird

Leroy

59-62

AE3

Leah

33

Davies

Tom

59-62

AM1

34

Goddard

Glen

59-62

LT

35

Hoban

Pat

62-64

AT3

36

Schulz

Russ

67-69

LCDR

Marilyn

37

Jarrell

Tom

59-63

AOC

Jean

38

Rogers

Glenn

54-55

AD3

39

White

Larry

66-69

AT2

Patricia

40

Bass

Sam

59-63

AO1

Helen

41

Bartel

Gerald

59-62

ATC

Pamela

42

Kimbrough

J. Allen

63-66

AE2

Catherine

43

Staples

Sam

57-59

LTJG

44

Rowles

Edward

58 & 63-63

AE2

45

Devine

Andy

46

Fawcett

Wayne

52-54

AT1
75 attendees registered