2008 All Hands Reunion Detailed Announcement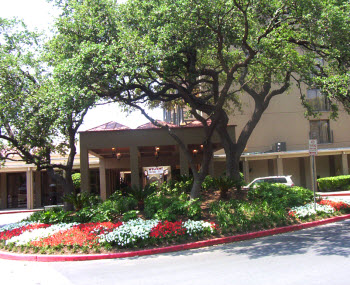 Welcome to the Lone Star State. The 2008 All Hands Reunion is to be held in San Antonio, TX on September 3-7, 2008 and offers a great tour, Texas and Southwest hospitality and opportunities to relax with old friends. The focus tour this year is to the Chester Nimitz "National Museum of the Pacific War" located 70 miles NW of San Antonio in Fredericksburg, TX. This is a "cannot miss" tour for those of us who share the Hawaii and WestPac VP experience!
HOTEL The Marriott Plaza San Antonio hotel has been chosen as the reunion location. A block of 50 rooms has been reserved for VP-28 Shipmates and their guests. Hotel accommodations will be separate from the Reunion Registration and must be arranged by you.
Rates are as follows:
| | |
| --- | --- |
| Occupancy | Rate |
| King or double – group rate | $109 |
Address: 555 South Alamo Street, San Antonio, TX 78205
Reservations: 1-800-421-1172, 1-210-229-1000
Event Name: Patrol Squadron 28 Reunion
Reservation cutoff date: August 7, 2008
Parking $10 per day, self-parking.
Shuttle Bus – Is available from the airport for $14 per person.
TOURS In addition to the many sights to see in the San Antonio area, this year's reunion offers very special organized tours.
National Museum of the Pacific War – We have all spent countless hours "boring holes in the sky" at low altitude in nasty weather over the far reaches of the Pacific. While we operated during the 1950s and 60s, all of us have a keen sense of what transpired there just 10 –25 years prior during WWII. We are all "War in the Pacific" enthusiasts by virtue of much first-hand knowledge of the theatre. Accordingly, the Chester Nimitz museum is a "must do" by any measure. Fredericksburg is his hometown and this museum is reputed to be world class. For us WestPac VPers, I don't know how it could be anything else. Their website contains much more information than we could possibly repeat here – http://www.nimitz-museum.org/ Charter bus pickup at the hotel and a guided tour
Guenther House – A women's tour to this historic 1860 mansion of the founder of "Pioneer Flour Mills" is being developed. This would be a Thursday, Sep 4 tour and not conflict with the Nimitz museum on Friday, Sep 5. This event is TBD at this time – stand by for updates.
Banquet The banquet meal and reunion gathering will be held on Saturday night, September 6 on the hotel patio. Menu will be "Southwest Buffet" with a Texas theme and mariachi band.
Photos There will be no formal photo book published this year but a roving photographer and photo CDs are planned for a $20 charge. Sign up for this option at the reunion, plus come prepared to take lots of personal snapshots with your digital camera that your family gave you for Christmas.
GOLF A golf tournament will be held on Saturday, September 6. Indicate intension to golf on the registration form and pay on day of event. Coordination will be finalized during the first two days of the reunion.
Tennis Facilities are available at the hotel for those inclined toward tennis. Bring your gear.
---
PATRON 28 Reunion Paid List
San Antonio – September 3-7, 2008
Updated August 22, 2008
Reg #

Last Name

First Name

VP-28 Dates

VP-28 Rank

Guest(s)

1

Wilson

Luther "Ed"

54-55

AT2

Valine

2

Bailey

Bob "Beetle"

59-60

AT1

Adriana
Betty Tuttle
Craig Tuttle

3

Lewis

John

67-69

AE2

4

Self

Bob

54-57

AT3

Brian Self

5

Miller

Sam

54-57

AT2

Evelyn

6

Deuerling

Joe

56-58

LTJG

Margit

7

Harpster

Dick

62-64

ADR1

8

Gilbertson

Glen

54-56

CDR

Irvy

9

Gilroy

Ed

53-56

LTJG

Jan

10

Alves

John L

62-65

AE2

11

Graff

Clint

53-55

AE1

Dorothy

12

Lugin

Ed

63-66

ATR3

13

Chalut

Mike

65-66

ATN3

14

White

Larry

66-69

AT2

15

Sires

Jerry

65-67

ATN2

16

Hurlburt

Thomas

64-66

AX3

Linda

17

Evans

Gerald

62-65

ADR2

Judy

18

Gilbert

Buck

56-59

AE2

19

Bass

Sam

59-63

AO1

Helen

20

Young

A.K.

63-66

ADR2

21

Earnest

Charlie

58-61

AT2

Suzanne

22

Peoples

Jim

55-57

AT2

Carmen

23

Stone

Richard

60-62

LTJG

Lourdes Reroma

24

Meier

Mike

57-60

LTJG

25

Cordrey

Rob

65-68

LT

Cheryl

26

Gielow

Greg

63-64

AE3

Angela

27

Koci

Jim

53-56

LTJG

Madeline

28

Spivey

Harold

62-65

ADR3

MaryAnn
Stephen
Stuart

29

Miller

Charlie O

56-58

AT2

30

Ste Croix

Lucien

62-66

ADR2

Louise

31

Ballard

George

63-66

ATR2

Gloria

32

O'Halloran

Frank "Skip"

66-69

AE2

Monica

33

Cotton

Beryl "Chip"

68-69

ATR2

Cheryl

34

Thompson

Linden

65-67

ADJ2

35

Brasseaux

Wayne

65-66

AX2

36

Barnett

Gordon

58-60

LCDR

Elida

37

Axelrod

Tom

62-65

AX2

38

Lamberson

John

62-65

AE3

Shawn (son)

39

Parten

G.R. (Fuzz)

61-64

ATN3

Bonnie

40

Rogers

Glen

54-55

AD3

41

Moore

Frank G.

62-64

AMH2

Diane

42

Hoban

Pat

62-64

AT3

43

Cyrus

Sam

61-64

AT2

44

Bariola

Louis A

54-57

AT1

Bonnie

45

Challgren

Gene

59-62

AX2

Carmie

46

Clark

Tom

60-62

AT2

Pat

47

Arnett

Jim

68-69

AE2

Jane

48

Roberson

Dale

53-55

PN3

Earlean
83 attendees registered