Seattle, WA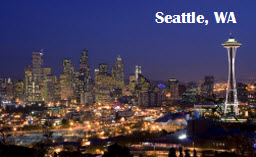 2007 All Hands Reunion Detailed Announcement
Welcome to the Pacific Northwest. The 2007 All Hands Reunion is to be held in Seattle, WA on October 17-20, 2007 and promises to be packed full of great tours and opportunities to relax with old friends.

HOTEL The Best Western Executive Inn Seattle Center hotel has been chosen as the reunion location. A block of 50 rooms has been reserved for VP-28 Shipmates and their guests. Hotel accommodations will be separate from the Reunion Registration and must be arranged by you.
Rates are as follows:
| | |
| --- | --- |
| Occupancy | Rate |
| King or double – up to 4 people – 1 standard rate | $99 |
Address: 200 Taylor Ave N, Seattle, WA 98109-5016
Reservations: 1-206-448-9444, Toll Free 1-800-351-9444
Event Name: Patrol Squadron 28
Reservation cutoff date: September 26, 2007


Parking

$5 per day, self-parking.


TOURS

In addition to the many sights to see in the Seattle area, this year's reunion offers 3 very special organized tours. All include charter bus pickup at the hotel and guided tours.
VP Nostalgia Tour – Thursday, Oct 18. First stop is Arlington, WA, north of Seattle to see a fully restored P2V-7 nose section in an aircraft museum, then on to Whidbey Island to visit the VP Memorial at the old Seaplane Base, then tour a P-3C at one of the operational squadrons. Lunch at the CPO Club is included in this $35/person package. (limited to 100 passengers registered for reunion – because personal information for each person must be submitted to NAS Whidbey base security by Sept. 26, 2007, it is important to register early – No "walk ups" will be permitted)
VP Future Tour – Friday, Oct 19. Tour the Navy/Boeing P-8A mockup, guided by the current Navy project manager for the next generation of Patrol aircraft. Based on the Boeing 737, the P-8A display is located directly across the street from the Boeing "Museum of Flight". The $20 cost covers transportation to and from the museum area. Admission to the Museum of Flight is an additional $13 for seniors. Museum and lunch are not included in the Friday trip charge. Lunch at the "Wings" in the Museum of Flight (limited to 50 passengers registered for reunion).
Lady's Friday tour of Pike Place Market on the waterfront. $20 cost covers transportation and guided tour of the Seattle waterfront, shopping galore, coffee roasting company, local fishing boat locks and fish ladder gardens. Lunch is at your own expense at a location of your choice during the waterfront portion of the tour. At least ten seafood opportunities (limited to 50 passengers registered for reunion).
Banquet The banquet meal and reunion gathering will be held on Saturday night, October 20 at the hotel in the main ballroom. Buffet choices include 1) Roast Chicken Breasts, 2) Pork Loin and 3) Top Round Beef.
Photos Same routine as in Washington, D.C. The booklet will be prepaid at $39 (includes S/H), i.e. ordered on the registration form. The photo book will emphasize casual photos as seen in last years edition. Portraits are also available – 8x10 > $12, 5x7 > $8 and wallet size > 4 for $4. Review details online at: http://www.thelightcatchers.com/Samples.htm
GOLF A golf tournament will be held on Saturday. Indicate intension to golf on the registration form and pay on day of event.
Hotel Location 200 Taylor Ave N, Seattle, WA 98109-5016, Phone: 206-448-9444
Hotel location is in the immediate vicinity of the Seattle Center, with the Space Needle, monorail to downtown, lots of shops and restaurants in the immediate vicinity.
Arrival Transportation Note: Through hotel – make reservations for a Town Car to the hotel that will meet their flight for $39 one way (up to 4 people). Tell the reservation person you want a town car reserved with Shuttle Express. This is cheaper overall than using the Airporter Bus and transfering downtown and paying a total of 33.50 per person.


PATRON 28 Reunion Paid List
San Antonio – September 3-7, 2008
Updated August 22, 2008
Reg #

Last Name

First Name

VP-28 Dates

VP-28 Rank

Guest(s)

1

Wilson

Luther "Ed"

54-55

AT2

Valine

2

Bailey

Bob "Beetle"

59-60

AT1

Adriana
Betty Tuttle
Craig Tuttle

3

Lewis

John

67-69

AE2

4

Self

Bob

54-57

AT3

Brian Self

5

Miller

Sam

54-57

AT2

Evelyn

6

Deuerling

Joe

56-58

LTJG

Margit

7

Harpster

Dick

62-64

ADR1

8

Gilbertson

Glen

54-56

CDR

Irvy

9

Gilroy

Ed

53-56

LTJG

Jan

10

Alves

John L

62-65

AE2

11

Graff

Clint

53-55

AE1

Dorothy

12

Lugin

Ed

63-66

ATR3

13

Chalut

Mike

65-66

ATN3

14

White

Larry

66-69

AT2

15

Sires

Jerry

65-67

ATN2

16

Hurlburt

Thomas

64-66

AX3

Linda

17

Evans

Gerald

62-65

ADR2

Judy

18

Gilbert

Buck

56-59

AE2

19

Bass

Sam

59-63

AO1

Helen

20

Young

A.K.

63-66

ADR2

21

Earnest

Charlie

58-61

AT2

Suzanne

22

Peoples

Jim

55-57

AT2

Carmen

23

Stone

Richard

60-62

LTJG

Lourdes Reroma

24

Meier

Mike

57-60

LTJG

25

Cordrey

Rob

65-68

LT

Cheryl

26

Gielow

Greg

63-64

AE3

Angela

27

Koci

Jim

53-56

LTJG

Madeline

28

Spivey

Harold

62-65

ADR3

MaryAnn
Stephen
Stuart

29

Miller

Charlie O

56-58

AT2

30

Ste Croix

Lucien

62-66

ADR2

Louise

31

Ballard

George

63-66

ATR2

Gloria

32

O'Halloran

Frank "Skip"

66-69

AE2

Monica

33

Cotton

Beryl "Chip"

68-69

ATR2

Cheryl

34

Thompson

Linden

65-67

ADJ2

35

Brasseaux

Wayne

65-66

AX2

36

Barnett

Gordon

58-60

LCDR

Elida

37

Axelrod

Tom

62-65

AX2

38

Lamberson

John

62-65

AE3

Shawn (son)

39

Parten

G.R. (Fuzz)

61-64

ATN3

Bonnie

40

Rogers

Glen

54-55

AD3

41

Moore

Frank G.

62-64

AMH2

Diane

42

Hoban

Pat

62-64

AT3

43

Cyrus

Sam

61-64

AT2

44

Bariola

Louis A

54-57

AT1

Bonnie

45

Challgren

Gene

59-62

AX2

Carmie

46

Clark

Tom

60-62

AT2

Pat

47

Arnett

Jim

68-69

AE2

Jane

48

Roberson

Dale

53-55

PN3

Earlean
83 attendees registered