Washington, DC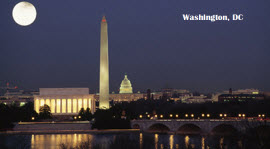 2006 All Hands Reunion Detailed Announcement

Located right on the subway and within a few minutes of the Mall, this year's hotel location puts you within ready reach of all that Washington D.C. has to offer, which is a lot. The 2006 All Hands Reunion is to be held in Washington D.C. on August 18-20, 2006.
HOTEL The Marriott Crystal City (at Reagan National Airport) Hotel has been chosen as the reunion location. A block of 50 rooms has been reserved for VP-28 Shipmates and their guests. Hotel accommodations will be separate from the Reunion Registration and must be arranged by you.
Rates are as follows:
| | |
| --- | --- |
| Occupancy | Rate |
| King or double – double occupancy – 1 standard rate | $99 |
Address: 1999 Jefferson Davis Highway, Arlington, VA 22202
Reservations: 1-800-228-9290 or 703-413-5500
Event Name: Patron 28 Hawaiian Warriors 2006 Reunion
Reservation cutoff date: July 27, 2006
Parking

$5 per day, self-parking.
Banquet The banquet meal and reunion gathering will be held on Sunday night, August 20.
Photos Similar to Memphis, but better. More pages of photos, better quality paper and cover. The booklet will be prepaid at $35 (includes S/H), i.e. ordered on the registration form. The photo book this year will emphasize casual photos more than the posed photos of last year.
GOLF There will be no golf tournament this year. Golf course accessibility on weekends in the DC area is quite limited. Plus with the many tourist opportunities available dictated not offering golf this year.
TOURS There are many sights to see in Washington D.C. Metro transit has a station right in our hotel making mass transit an easy and sensible way to take in the sights. In addition, we will be investigating organized tours with pickup at the hotel and guided tours throughout the city. Details to follow.
PATRON 28 Reunion Paid List
Washington D.C. – August 18-20, 2006
Updated August 2, 2006
| | | | | | |
| --- | --- | --- | --- | --- | --- |
| Reg # | Last Name | First Name | VP-28 Dates | VP-28 Rank | Guest(s) |
| 1 | Boullion | Louie J. | 59-60 | AT3 | Dorothy |
| 2 | Wilson | Luther (Ed) | 54-55 | AT2 | Valine |
| 3 | Beddingfield | Jim | 65-68 | LT | |
| 4 | Vierregger | Bill | 57-59 | LCDR | |
| 5 | Adams | Bill | 57-60 | LTJG | Joy |
| 6 | Earnest | Charlie | 58-61 | AT2 | Suzanne |
| 7 | Axelrod | Tom | 62-65 | AX2 | |
| 8 | Bass | Robert (Sam) | 59-63 | AO1 | |
| 9 | Campbell | Larry M | 60-62 | AMH3 | Coral |
| 10 | Raithel | Al | 63-66 | CDR | |
| 11 | Peoples | Jim | 55-57 | AT2 | Carmella |
| 12 | Meier | Mike | 57-60 | LTJG | |
| 13 | Stone | Richard | 60-62 | LTJG | Lourdes Reroma |
| 14 | Gielow | Greg | 63-64 | AE3 | Angela |
| 15 | Gilbert | H.R. (Buck) | 56-59 | AE2 | Peggy |
| 16 | Self | Bob | 54-57 | AT3 | |
| 17 | Gray | Billy D. | 63-66 | AE3 | Connie |
| 18 | White | Larry V. | 66-69 | ATR2 | Patricia |
| 19 | Wilson | David | 66-69 | AWC | Joan |
| 20 | Brubaker | Howard | 54-57 | AD2 | Pat |
| 21 | Wakefield | Gary | 59-60 | ATN3 | Rosemary |
| 22 | Lugin | Ed | 63-66 | ATR3 | Joan |
| 23 | Cordrey | Rob | 65-68 | LT | |
| 24 | Davis | Dick | 55-58 | LTJG | Roberta |
| 25 | Brown | Bill | 63-66 | LT | Maureen |
| 26 | Deuerling | Joe | 56-58 | LTJG | Margit |
| 27 | Murdock | Fred | 54-57 | AEC | Joanne |
| 28 | Woods | Jim | 63-66 | AE3 | Juanita |
| 29 | O'Halloran | Frank "Skip" | 66-69 | AE2 | Monica |
| 30 | Burgamy | Chuck | 60-63 | AE2 | |
| 31 | Terry | Dan | 58-59 | LT | |
| 32 | Terhune | Conrad | 67-69 | ADJ2 | Sheila |
| 33 | McHale | Tom | 61-62 | AT2 | |
| 34 | Lewis | John | 67-69 | AE2 | |
| 35 | McHale | Mike | 59-62 | AT1 | Jean |
| 36 | Welch | Dick | 58-61 | LT | Elizabeth Craig |
| 37 | Kelly | David | 63-65 | ATN2 | Margaret |
| 38 | Feiker | Bob | 54-56 | ADE3 | Helen |
| 39 | Jarrell | Tom | 59-63 | AOC | Jean |
| 40 | Von Schrader | Chandler | | | |
| 41 | Lahouchuc | Joe | 55-57 | YN3 | Sandi |
| 42 | Staples | Sam | | | |
| 43 | Pint | Richard | 65-68 | AO2 | |
| 44 | Sharp | Jay | | LCDR-CAPT | |
| 45 | Lebiedz | Edward | 67 | CDR-CAPT | |